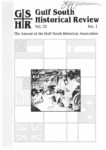 Contents

From the Editor . . .
The Confederate submarine Hunley has been in the news a great deal
over the last couple
of years. Archeologists discovered where it sank,
recovered it, and examined its contents in great detail. Few warships have
been so closely inspected, but until this issue
of the GSHR we did not
know where the
Hunley was builL Oh, we knew it was built in Mobile,
and for years we thought we knew where, until a biologist with a historical
itch began asking questions. Dr. Jack
O'Brien Jr. soon found all sorts of
contradictions in what we thought we knew, and, like the proverbial dog
with a bone, he went to work to solve the mystery . His article serves to
re m ind
us all that there are many kinds of historians , and not all of them
work in college history departments! His article is a masterful detective
story with a happy ending, no less. It has been my privilege
to watch
as this story unfolded and to share in Jack's delight as he solved the puzzle,
piece by piece. It reminded me
just how exciting historical research can
be. and how lucky those
of us who get paid to do it really are!
The issue begins with last year's Coker Prize winning essay by Mike
Mansfield on the difficulties that non-white seamen experienced in
antebellum Mobile and in
ports elsewhere in the South . Mr. Mansfield is
completing his PhD . in History at the
University of Alabama . He received
his M.A . from the
University of South Alabama, and we share the
University 's pride in his growth as a h istorian.
As always, we have a wide ·ranging selection
of books on our region
in this issue , thanks to the continuing work of our Book Review Editor,
Dr . Jim McSwain. Jim does his
job as editor while teaching a full load
at Tuskegee
University and pursuing his own research agenda. For several
years
he has investigated the development of the sea·bome shipment of
petro leum in the late-nineteenth and early-twentieth centuries. His article,
.. Urban Government and Environmental Policies: Regulating the Storage
and Distribution
of Fuel Oil in Houston, Texas, 1901-1915," just appeared
in the May
2005 issue of the prestigious Journal of Southern History. It
is a signal honor to be published in the
JSH, and though not unexpected
in this case,
we wish to congratulate our colleague on his fine scholarship .
Congratulations
of another sort are in order for our Associate Editor,
Elisa Baldwin, as she will have retired from the University
of South
Alabama by the time this issue reaches you. While she will not have to
shoulder the burdens
of the University Archives any more , she has agreed
to continue to serve as Associate Editor
of this journal. This assures you,
the reader, that the journal will continue
to appear on schedule and in
readable form. There are no words to express how important her work
is to the production
of the GSHR, and we wish her a happy retirement
from all her other duties and truly appreciate her willingness
to stay on
with us.
Once again we take pride in bringing you another issue of the Gulf
South Historical Review, and hope that you enjoy reading it.