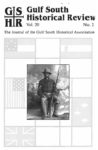 Contents

Tona J. Hangen. Redeeming the Dial: Radio, Religion,
and
Popular Culture in America
Randall J. Stephens 89
Dale
L. Hutchinson. Bioarchaeology of the Florida Gulf
Coast: Adaptation, Conflict, and Change
Mary Jo Schneider 92
Suzanne W. Jones and Sharon Monteith, eds.
South to a
New
Place: Region, Literature, Culture
Clay Morton 94
David J. Libby.
Slavery and Frontier Mississippi
Joshua D. Rothman 96
Robert E. May.
Manifest Destiny's Underworld:
Filibustering in Antebellum America
Kevin M. Brady 99
Mary Ann Sternberg. Along the River Road: Past and Present
on Louisiana's Byway
Keith A. Hardison 101
Gregory J. W. Urwin. Black Flag Over Dixie: Racial Atrocities
and Reprisals in the
Civil War
Joseph E. Brent 103
Kathryn Ziewitz and June Wiaz. Green Empire: The St.
Joe Company and the Remaking of Florida's Panhandle
Joe Knetsch 105
Cover Photo: Spanish American War Soldier H. W. Parlee.
University of South Alabama Archives.