Tuskegee University Archives Repository
The University Archives includes material documenting the history and growth of Tuskegee University. Books (including faculty publications), manuscripts, Tuskegee University periodicals and newspapers, ephemera, photographic images, disc and tape recordings, and other archival items are available for research under supervised conditions.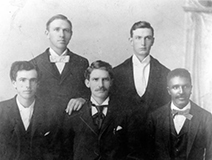 Browse Archives Holdings
You can browse the Archives Holdings lists online.
Archives News
Website Receives 850,000 Hits
New: Tuskegee University Catalogs/Bulletins from 1881-1915
Gulf Coast Historical Review Full-Text Archives now available online
Booker T. Washington Collections
Communities in Repository
Select a community to browse its collections.
-